Freitag, 8. August 2014
Map from our Ministry
We are employed by AIC Kapkuikui and we are living at Kapkuikui.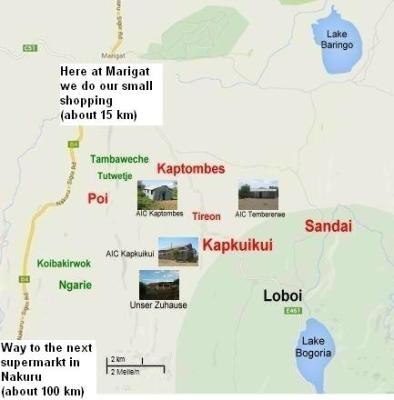 We are working at three churches:
1. AIC Kapkuikui
2. AIC Kaptombes (almost 15 min by car)
3. AIC Tembererwe (almost 45 min by car)
All three churches have a dancing group, a catechism class and a Sunday School.
Nursery/ Primary Schools (Also here are Sunday Schools.)
1. Kaptombes (almost 20 min by car)
2. Poi (almost 30 min by car)
3. Sandai (almost 40 min by car)
4. Tireon (almost 12 min by car)
Further Sunday Schools:
1. Koibakirwok (almost 30 min by car)
2. Ngarie (almost 30 min by car)
3. Tambaweche (almost 60 min by car)
4. Tutwetje (almost 45 min by car)